Seven Safety Stocking Stuffers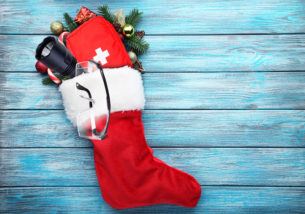 December 5, 2018
On the first day of Christmas, my true love gave to me – a first-aid kit, flashlight and batteries!
Stumped on stocking stuffers this year? Consider the gift of safety. The Accident Fund Loss Control team has prepared a list of home and vehicle safety items for every friend and loved one on your list.
Reflective vest – Keep one in the car for emergency tire changes or roadside stops. We recommend a class two reflective vest (fluorescent yellow-green or orange) for high visibility.
First-aid kit – Consider one for the home and vehicle. Look for kits with the necessary medical supplies to treat burns, cuts and abrasions, stings, splinters and strains and sprains.
Flashlight (with batteries!) – Look for an LED weatherproof and shock-resistant model. While so many of us rely on our cell phones as flashlights, a true flashlight is best in an emergency; it reserves cell phone battery for calls, texts and navigation.
Reflective triangle – Keep a three-pack of day and night hazard triangles in each vehicle for emergency roadside stops.
Safety glasses – We recommend ANSI Z87 polarized, anti-fog safety glasses for the home – used when operating power tools and gardening equipment – and a pair in the glove box for roadside emergencies.
Fire extinguisher – An ABC-rated fire extinguisher should be available in each home and ideally each vehicle.
Carbon monoxide detector – Known as the silent and invisible killer, carbon monoxide (CO) doesn't present with an odor, color or taste. The Consumer Product Safety Commission (CPSC) recommends installing a carbon monoxide detector outside every bedroom.
Contact your CompWest loss control consultant for additional recommendations. We wish you and yours a safe and happy holiday season!
Share this resource:
---
URL coppied to clipboard.

Or send it directly to someone via our email form:
---