Five Ways to Engage Your Workforce in Safe and Sound Week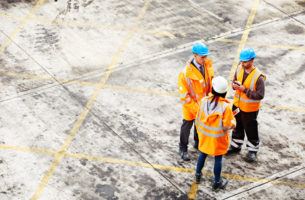 August 11, 2019
Safe + Sound Week, a nationwide campaign hosted by OSHA and other national safety organizations, exists to emphasize the value of workplace safety and health programs. The ultimate goal is for businesses to reinforce the effectiveness of safety programs through activities and discussion.
Participation in Safe + Sound Week could be the kick start necessary to get a new safety program off the ground or revive an existing one. It's a timely occasion to engage supervisors and employees in sustaining an effective safety program—complete with management leadership, worker participation and finding and fixing hazards.
Businesses should consider these five Safe + Sound Week activities:
Create or refresh a safety policy
If your company doesn't have a clear policy outlining the organization's commitment to safety and health, now is a great time to prepare one. If a policy exists but hasn't been reviewed in the last few years, give it the once-over; you may find it needs clarification or updated procedures.
Host an open forum between workers and management
Invite your workers to an open safety discussion with managers and company leadership; the candid feedback and chatter could uncover new hazards, exemplary worker habits or necessary fixes. Ask questions like "What hazards do you face every day?" or "Is there a way to improve procedures or reporting?" If a physical meeting isn't feasible, consider a worker perception survey, suggestion box or direct hotline to management.
Reward safe workers on the spot
Spend a day, or the full week, seeking out workers who are following safety protocol and best practices. Reward them on-the-spot with small tokens of appreciation. See an employee wearing proper PPE and operating equipment safely? Hand out a gift certificate to a local business or offer company apparel.
Organize a safety swap between working groups
Oftentimes a fresh pair of eyes can uncover what's been overlooked in the everyday. Select a short period of time for workers from different parts of the company to swap workstations and assess safety hazards. Leave time for the swappers to share their findings and identify solutions for a safer work environment.
Conduct a mock incident investigation and report
Identify a common hazard or historic incident and ask a handful of worker volunteers to role-play the event. Then, round up another team of supervisors and workers to walk through a mock investigation. Did they follow good investigative practices? Was there a focus on identifying the root cause?
For more information about Safe + Sound Week, or to find a complete list of example activities, visit www.osha.gov/safeandsoundweek. And don't forget about the loss control resources available to you in the CompWest Toolbox.
Share this resource:
---
URL coppied to clipboard.

Or send it directly to someone via our email form:
---