CompWest Quarterly – June 2022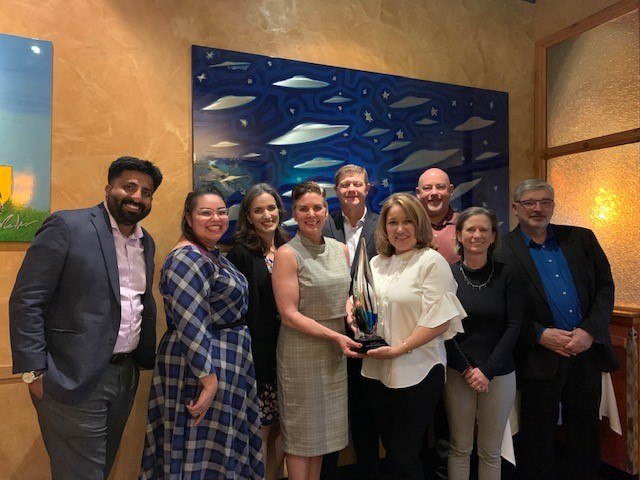 Agency of the Year Announcement
We are proud to recognize United Valley Insurance Services as its 2021 Agency of the Year.
"In just three years, our strong partnership with United Valley Insurance Services has made a significant impact on our organization," said Steve Cooper, president of AF Group's Workers' Compensation Division. "We're thankful for the entire United Valley Insurance Services team, who has shown an extraordinary commitment to our mutual customers and collective success."
"The engagement from the CompWest team to support our member agencies and work directly with individual producers on creative solutions has been remarkable and is demonstrated in our growth together. We look forward to continuing to partner with CompWest for many years to come," said Rene Swan, regional executive vice president of United Valley Insurance Services.
For more information on our great partnership with United Valley Insurance Servces, please read our recent Agency of the Year press release.
ICYMI: AF Group Announces Acquisition of AmeriTrust Group
With this acquisition, AF Group welcomes AmeriTrust's expertise in the property and casualty space to its enterprise, and further enhances its successful specialty and workers' compensation products and its capabilities in other lines of insurance.
VIEW ANNOUNCEMENT>
New Resource: What We Don't Charge to the Claim
While other carriers may allocate service costs to the claim, we don't. Learn more about the impact of our medical management services and treatment of allocated loss adjustment expenses (ALAE). VIEW FLYER>
2023 Incentive Trip: Quebec City
We're so excited to take our incentive trip program to the most European city in North America from May 7-12, 2023!  Old Québec is a UNESCO World Heritage jewel – a charming bastion of French culture and the most walkable city in the world. We hope you'll join us!
TRIP WEBSITE>
AF Group Client Relations at Your Service
For large and complex accounts that require special coordination and a heightened level of interaction, our Client Relations team is available to take the reins. The team identifies the nuances of each customer to best serve their needs and foster long-term relationships.
LEARN MORE>
Register: AF Group Innovation Day Webinar
Join us Thursday, Aug. 25 from noon to 1 p.m. ET for a webinar with AF Group Innovation Manager Sam Hosey. Learn how we approach industry trends and new technology while keeping the voice of the customer and market front and center. REGISTER>
Register: Building a Safety Foundation Course
These courses are designed to give safety professionals a better understanding of their role in creating and supporting an effective safety program for their organization – and we've developed an agent-focused course too!
LEARN MORE> and REGISTER>
Register: Underwriting Basics Lunch and Learn
Grab your lunch and join us on Wednesday, July 20 for an educational, 30–45-minute session on 'Underwriting Basics 101.'
REGISTER>
Quick Links